This Fall, Catch Football Season from Your Backyard & Patio
How to Build a Stunning Outdoor Entertainment Setup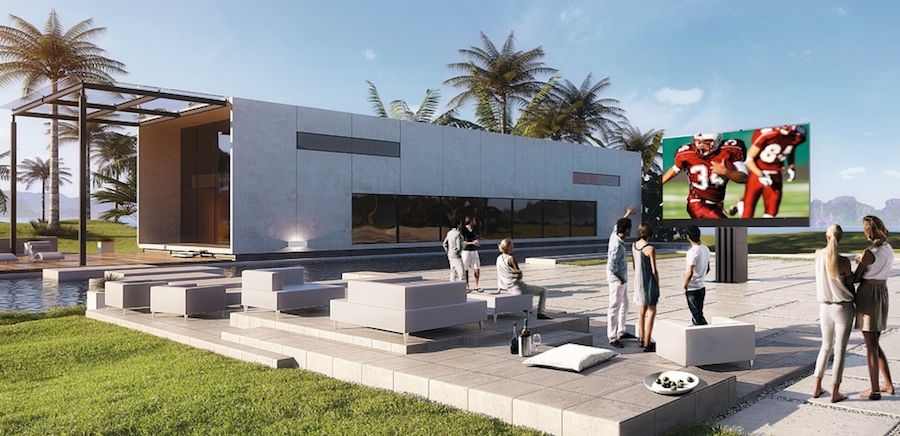 By now, football fans in other parts of the country are already bundling up in scarves and jackets for games. But here in Dallas, we have warm weather well into the season. So why spend game day cooped up indoors when you can take the action to your backyard?
If you're new to outdoor entertainment, you'll be glad you made the investment. Whether you're watching college football or the Cowboys, weatherproof technology from brands like SunBriteTV and C SEED let you gather with friends and family outdoors anytime. From the porch, patio, pool, or hammock, you'll enjoy outdoor entertainment all year long.
Read on to see how weatherproof AV will make your Dallas, TX home everyone's favorite spot to catch the game.
SEE ALSO: Whole-Home Audio: How It Works & Why It's Worth It
Find a Bright & Weatherproof TV
A few times each summer, many people take out their portable projector, hang a sheet, and play a movie in the backyard. But how often does one get the energy to set up an at-home drive-in—and how clear does it really look?
With a fully weatherproof screen by brands like SunBriteTV and C SEED, you can keep your HD or 4K display mounted outdoors all year long. And you won't have to wait for nighttime to see the screen properly—it's bright enough to watch during the day, too!
That's because outdoor televisions are up to four times brighter than indoor models. Most standard indoor screens shine at 450-550 nits, while SunBriteTV's outdoor displays are 1,000 nits. The C SEED 201 is even brighter at 4,500 nits, so it can be placed in direct sunlight with no nearby shade. You'll see it as clearly as a stadium screen. No glare or fade here!
And if you aren't sure if you'd like a TV permanently mounted in the yard, the C SEED 201 can fold and descend underground when you're not using it. And when it's game time? With just a tap of a button, the microLED screen will rise from the ground and power on.
Spread the Sound with Outdoor Audio
If you're hosting friends and family, everyone will want to be within earshot of the game—without blasting the audio and bothering the neighbors. TV speakers can usually only go so far, and if you're watching from the patio, others won't be able to listen while they're playing cornhole.
That's why we recommend including an outdoor audio system. Weatherproof speakers may be installed across your property and synced to play in unison. Speakers will play at a comfortable level across the lawn, so it won't sound too loud in some areas and quiet in others.
Perfect Your Outdoor Lighting
So, you've got impressive outdoor audio and video now. But how's the rest of the ambiance? Landscape lighting can be wired to the same system that controls your TV and speakers. You can program outdoor lights to turn on automatically at sundown and adjust the color temperature and brightness right from your phone.
Hire a Pro to Wire & Install
It's not easy to run wires underground and connect all your speakers and screens to a centralized controller. But by partnering with a professional like HomeTronics, we'll install the entire system for you. Then, all you'll need to do is press play.

If you're interested in high-end outdoor AV, contact our Dallas/Fort Worth team here to discuss the possibilities today. We look forward to helping you!

No video selected.