Make the Outdoors the Best Room Of The House
Turn Your Backyard into a Complete Entertainment Center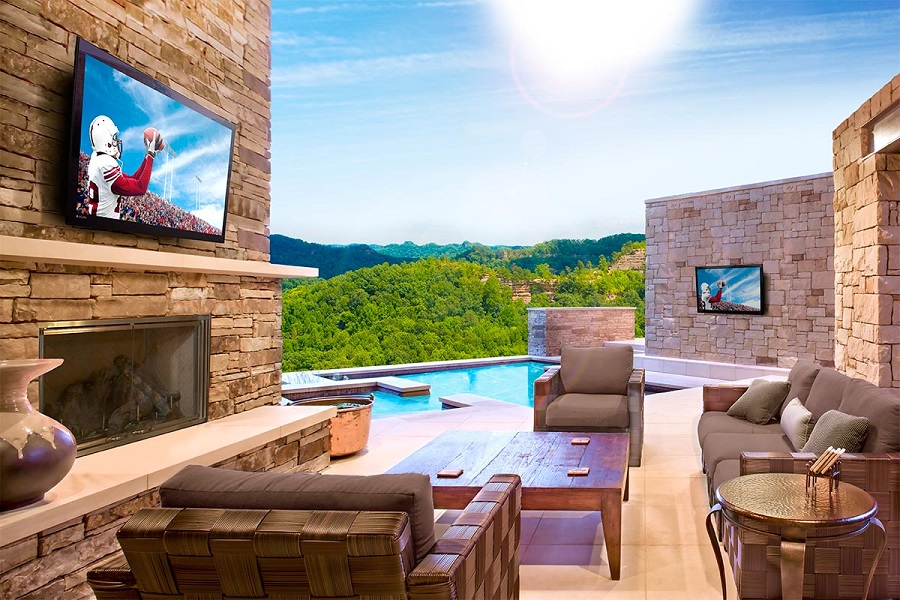 Your smart home provides many luxuries like tunable lighting, multi-room audio, distributed video, and intuitive interfaces to control it all. You can entertain, create the perfect ambiance, and personalize it all to meet your preferences.
Extending your living to the outdoors by making more use of the pool or grilling on the barbeque does not mean you have to leave all of those conveniences behind. Installing an outdoor TV enhances your time spent in the backyard, turning it into a complete entertainment center.
Are you intrigued by the possibilities of an outdoor media space for your Dallas, TX home? Read below to learn more.
See Also: How Motorized Window Shades Add an Extra Level of Luxury and Convenience
Bring Your Backyard to Life
Having the ability to bring together friends and family outside is one of the great pleasures of owning a home. When the sun is in your face or the stars are above your head, the food is tastier, and the drinks are more refreshing. Whether you are looking to gather the gang for the big game or enjoy a movie as dusk falls, bringing audio and video outdoors involves more than moving a television onto the deck.
Watch Any Time, In Any Weather
There are several factors to consider when adding video displays that will be exposed to the elements. A unit must furnish solutions for viewability in sun, shade, and night, have durability in all weather conditions, and be safe for those using it.
Outdoor-rated LED and QLED monitors offer models in sizes ranging from 32" to a stunning cinema-like 75". Whether you want to add video to the poolside cabana, watch sports on the deck bar, or gather everyone on the porch, there is an outdoor TV available to fit your needs.
The sun presents its own challenges – standard TVs may seem bright when placed indoors, but add the slightest bit of glare and the image is washed away. Exterior models produce an image three to six times brighter; the anti-glare and heat resistant screens generate 4K image quality you typically find in your home theater. Regardless of the time of day, you will enjoy spectacular video in a housing that resists UV fading, the Dallas humidity, and bugs for years to come.
Add Audio and Ambiance
You enjoy the energy and inspiration your multi-room audio system creates indoors, so why not add this to your backyard as well. Outdoor speakers give you the ability to add power and depth to a movie: hear the roar of the crowd or feel the music as it plays throughout your landscaping.
Light up your outdoor spaces and bring ambiance with outdoor illumination. Keep the pool safe for swimming after dark or add emphasis and drama to a get-together without blocking out the beauty of the night sky.
Complete Outdoor Living
Outdoor entertaining is vital now more than ever. Are you ready to make your backyard the best room of the house with outdoor TV and audio solutions? Connect with us today by calling (972) 490-1090 or filling out our contact form to schedule a no-obligation consultation. We look forward to hearing from you!

No video selected.