The 4 Keys to Exceptional Home Theater Design
A High-Performing Home Theater Offers an Immersive Viewing Experience & More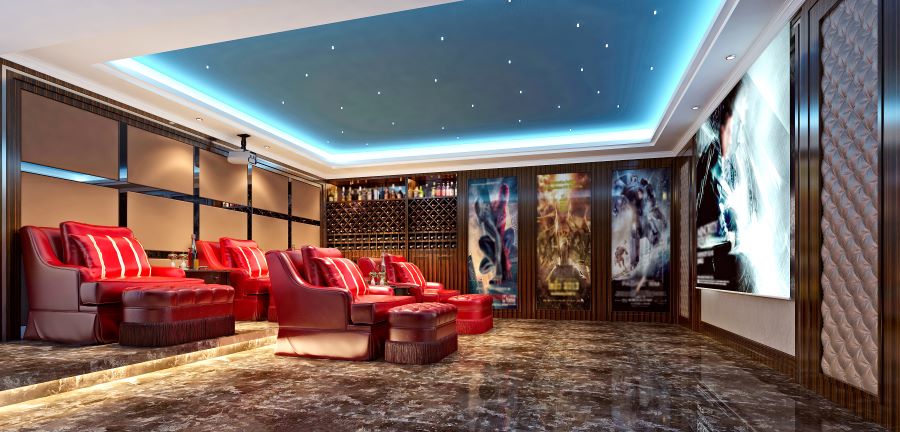 While top-end equipment and expert installation make a home cinema's sound and picture quality stand out, optimal home theater design separates the average home theater from those that deliver a spectacular cinematic-quality experience.
To prepare your Dallas, TX, home for the movie experience of your dreams, you'll need experts in room layout, acoustic treatments, low-frequency optimization, and audio and video design.
Keep scrolling below to learn more!
SEE ALSO: The Fall, Catch Football Season from Your Backyard & Patio
The Room Layout
The secret to an exceptional home theater is to design the space by first considering the aspects of the room that you can control and the elements beyond your control. For instance, the size of the room has a tremendous impact on the sound, and the ceiling height and room depth determine how many seating rows are possible for homeowners interested in tiered seating.
Of course, an existing home needs to work within specific confinements and handle wiring behind installed drywall. Not all rooms, or even very few, manage the golden room ratio and ceiling height. Our certified technicians and program managers can make some suggestions based on your family's lifestyle and your entertainment vision.
Now it's time for the fun part. How do you envision your theater? Do you see tiered, reclining leather chairs or comfortable loveseats nestled together? We'll discuss material, patterns, and design next.
Acoustic Treatments
Acoustic treatments blend into the design of the home theater. These treatments can address issues a particular room layout may bring to the table by controlling soundwave reflections that degrade sound quality as they bounce off the wall and reverberate. Without acoustic treatment or digital room correction software, you miss the subtleties that make for a cinematic experience—the soft whispers and the defining deep bass of high-action scenes.
With properly installed acoustic treatments and quality equipment, you'll experience movie viewing at its best—a space where you and your guests can immerse yourselves in another world. Common acoustic treatments include custom stretched fabric and absorptive, reflective, and dispersing wall panels. Some styles can even play double-duty as interesting art pieces on your walls.
Low-Frequency Optimization
Creating consistent bass coverage throughout the space ensures each viewer experiences the similar sound quality in every seat. This essential detail separates designers interested in the looks of a theater and engineers determined to produce the best achievable sound.
We'll determine the best placement for subwoofers and speakers by mapping out the room and seating to achieve the surround sound effect that defines a pleasurable movie-watching experience. You'll be left with smooth, defined notes and a sound system that you can feel as well as hear.
Audio and Video Design
Selecting the right speakers, subwoofers, and amplifiers while considering the audience coverage and listening distance ensures uncompromised sound quality. We partner with best-in-class brands to ensure optimum performance. One of our partners is California Audio Technology, a global brand, and the top choice in custom-designed speakers for recording engineers and performing artists.

Video design incorporates the right projector and the best screen for your layout. Image brightness and contrast targets are considered and vary based on the use of your space. If you'll also be cheering on your favorite teams, we need to consider wide viewing angles and fast refresh rates, so there's never any motion blur during big game plays. When each element is considered, your family and friends will experience a truly immersive cinematic experience.

Founded in 1986, HomeTronics has been on the leading edge of technology solutions and advanced home theater design. It's one of the reasons our home theater designs have won numerous national industry awards, and our work has been featured in over 75 publications around the world. To schedule a complimentary consultation, contact HomeTronics today.

No video selected.